The staking portal, now with more fire.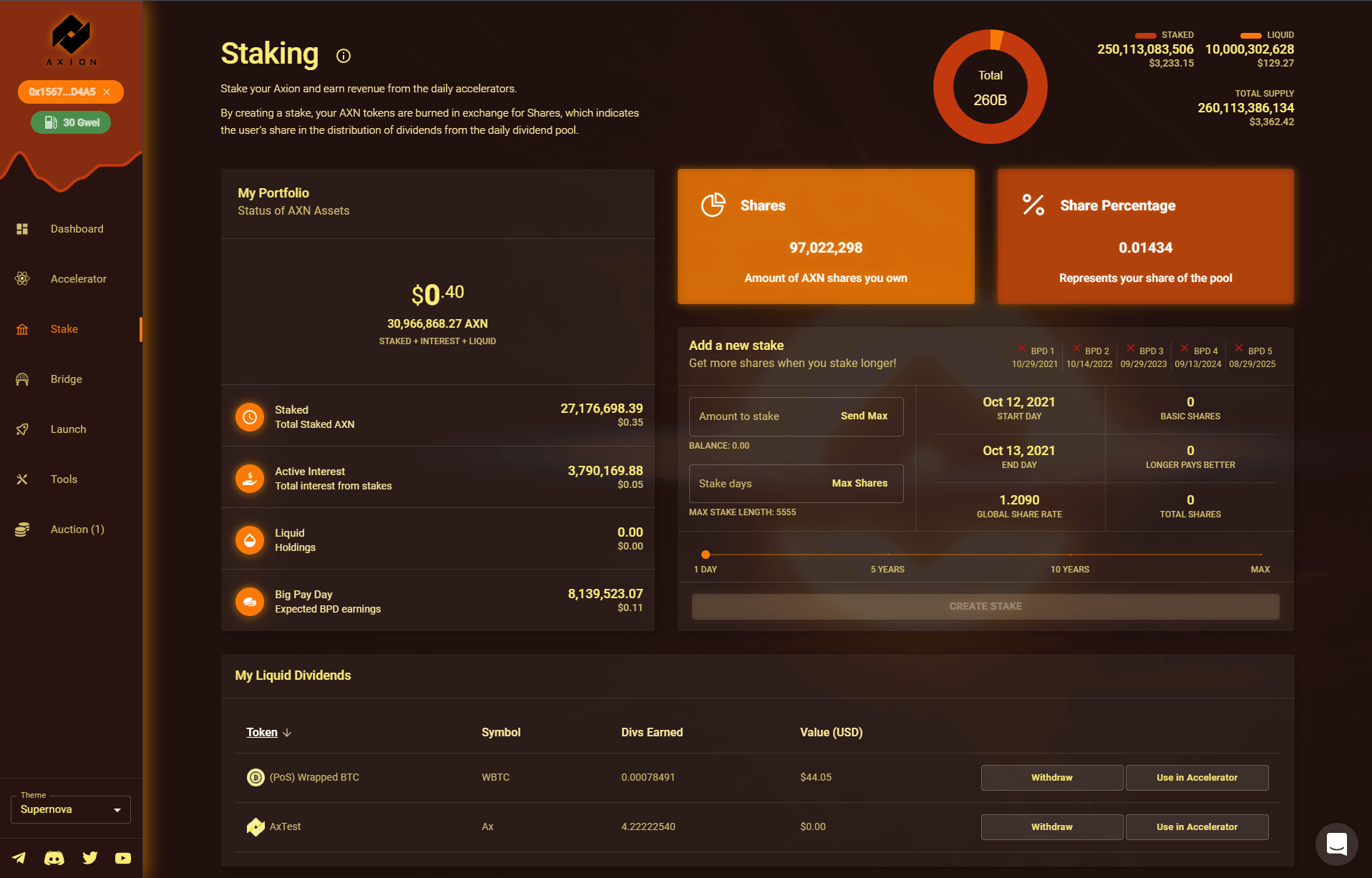 Checking your bitcoin dividends never looked so good.
How does it work?

The staking portal will automatically detect the NFT if it is assigned to your wallet, and change the UI interface of the portal to a firey theme. Want to go back to Axion Blue? Simply change the theme setting on the staking portal sidebar to return.



What is the discord tag?

 When Discord detects the Supernova NFT in your connected wallet, you will automatically get the Supernova tag and color applied to your account. If you sell or trade this NFT, the tag will be removed. You will need to be a part of the Axion Discord with a registered wallet in order to get this tag.
Does this NFT unlock any other functionality?

 This is just the beginning of the Axion NFT ecosystem. Right now, this NFT is classified as a

Visual NFT

, meaning it offers no utility other than changing the visual flares of the website as well as unlocking specific tags in our Discord. Future

Community Events

could unlock different functionalities based on the NFTs that users hold, though Axion makes no guarantee of future functionality. 
Can I sell or trade this NFT on OpenSea?

 Absolutely. This NFT is fully transferrable or sellable, so if you don't want this NFT you can trade it with another person or sell it on the open marketplace.
Do I have to have the Supernova NFT to be a part of the Axion community?
 Nope. The World's Best Staking Ecosystem is open to anyone, anytime.
Will there be future Visual NFTs?
 You can bet your shiny bitcoin dividends there will be.
How to get the Supernova NFT
The last 40 wallets who bid in the Axion Accelerator on the Ethereum network will automatically get the Supernova NFT. They will be the first to experience the new Staking Portal theme before it becomes available to the public sometime after launch.
If you want to be the first... you'll have to be the last - on Ethereum that is! Pay attention to when Axion is going to migrate to Polygon and make sure you're one of the last Accelerator participants, no minimum amount is required. 
Only one NFT per wallet will be given the Supernova NFT.
Missed your chance?

Axion's NFT Ecosystem will be launching on the Polygon network, including the ability to mint unique NFTs based on your stakes. The NFT Ecosystem will also include Visual NFTs like the Supernova that will accentuate your Axion staking experience.
These NFTs will be sold on the upcoming Axion NFT store, with the proceeds going to support the ongoing development of Axion. 
Pricing, availability, and rarity to be confirmed when the Axion NFT Collection launches sometime in Q4 2021.